The Leading Mirus Bio Products from MJSBioLynx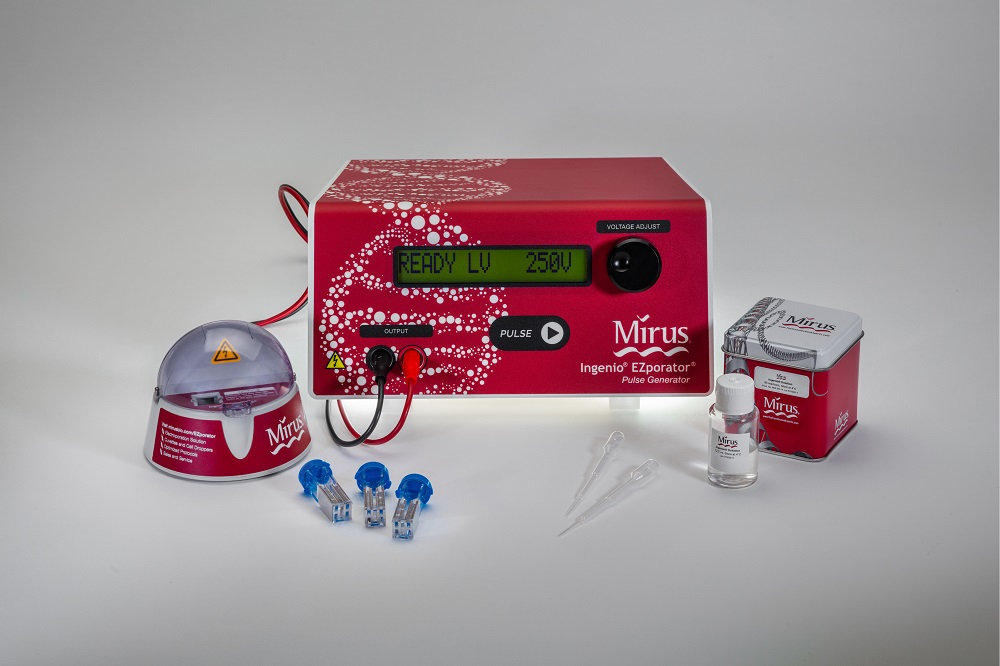 Known as one of today's leading manufacturers of gene delivery technologies, Mirus Bio products have been a standard for scientists and biologists the world over for many years. Focused on the development of technology to enhance the nucleic acid delivery process, Mirus has created leading chemical transfection reagents, along with electroporation, virus production, and transduction products.
The team at Canada's BioLynx is happy to be a leading distributor of the innovative scientific solutions available from Mirus. Below, you'll find a highlight of some of the best-selling Mirus products we carry.
Ingenio® EZporator® Electroporation System
Designed to be used with Ingenio® Electroporation kits and solutions, this system increases efficiency and offers added simplicity for researchers. For labs in need of affordable solutions without sacrificing quality, this system provides them with the ideal alternative for insect and mammalian cell culture applications, including RNAi, gene expression, stable cell line generation, and genome editing.
Other specifications include:
A complimentary Ingenio® Electroporation Kit (8 reactions) and an easy-to-use protocol.
Simple use of a single, universal electroporation solution for all cell types.
The ability to deliver any nucleic acid to hard-to-transfect stem and primary cells.
Mirus Bio Reagent Agent Tool
Another great offering from the Mirus Bio team is their groundbreaking reagent agent tool, which offers researchers a host of solutions. It's designed to provide teams with the information needed to determine the best delivery procedure for any nucleic acid type into any cell type.
This innovative machine also boasts:
Easy-to-Use Search Functions: The input process utilizes easy-to-use entry fields that provide results in seconds.
Scientist-Driven Design: To provide you with the most reliable transfection solutions, the Mirus Bio Reagent Agent Tool was developed using in-house data, combined expertise, and external scientific feedback and citations.
Expansive Database: With electroporation and transfection data for more than 600 cell types, it's easy to find the right research solution.
Comprehensive Results: You can easily focus searches based on your area of interest, with nucleic acid results for DNA, siRNA, mRNA, and many more options.
Why Choose MJSBioLynx?
For more than 40 years, BioLynx has been distributing life science products and solutions to scientists in Canada. We specialize in providing innovative products for micro and molecular biology, cell biology, molecular biology, microbiology, and a variety of other life science disciplines and applications.
To learn about our products or place an order, contact us online today or call our team toll free at 1 (888) 593-5969.