MJS BioLynx – Lectins Promotion

We've Got Great Lectins for Your Cancer Research!

Changes in glycosylation patterns of specific proteins were one of the first biomarkers of cancer. They are still regularly used as a diagnostic tool and to assess the patient prognosis and response to treatment.
Examples of such glycoproteins include CEA, MUC1, MUC16 and prostate-specific antigen (PSA). Glyco-selective lectins have proven a useful tool for the identification of novel PSA biomarkers.

Below are two articles discussing Lectins and their use in Cancer Research:
GlycoSeLect
Click here to order or request a quote on GlycoSeLect recombinant lectins.
Vector Laboratories
Click here to view the selection of Vector's plant lectins available through MJSBioLynx Inc.
Click here to order or request a quote.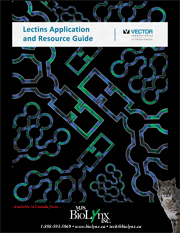 Vector Laboratories' Lectins Application and Resource Guide
The Lectins Application and Resource Guide is a content rich educational booklet that provides insight into how lectins are applied in biological sciences. With a focus on plant derived lectins, the guide showcases the flexibility and utilization of lectins and lectin conjugates in established lab applications.

Click here to download.
Vector Laboratories – Unlock Deeper Insights with Lectins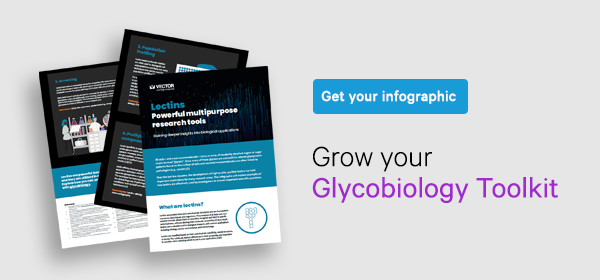 Glycobiology is an exciting, growing field that explores the role of glycan modifications in a variety of areas, from tumor biology to drug discovery. A key to unlocking these deeper insights is lectins. We've put together an infographic that will provide you with a brief background and practical applications to empower you to integrate lectins into your protocols and grow your glycobiology toolkit.