Sequence Biotech – Precision Plus Series Pipettor
Innovative, Easy-to-use, Advanced Benchtop Pipettor



The Precision Plus Series Pipettor is a universal 96 channel pipettor allowing you to use your preferred tip.
Their pipet header works with any size, style, and brand.
For use with universal tips
300µL volume capacity
Enhanced motor control for acceleration and deceleration
Six pipetting speeds and custom speed control settings
Ergonomic, large, comfortable handle grip
Improved programmability by adding extra commands and 4x memory
Compact, will easily fit into a fume hood
Lightweight, only 22 pounds
Two year warranty
LED Lighting – dimmable directly over pipette tips
Videos:
25µL Plus Unit Dispensing into a 384-well Plate Using the Optional EZ Tray Accessory
Sequence BioTech Precision Plus Series Pipettor vs. Electronic Hand Held Pipettor
Dispensing DMSO
Product Overview - Animation
Sequence BioTech - PLUS - Aspirate-Multiple Dispense
Sequence BioTech - PLUS 96 Channel Pipettor - Easy Motion
Sequence BioTech - PLUS, EZ Tip Loading and Eject

Click here for further information.
Click here to order or request a quote.
Contact our Technical Team for more details or to request a demo.
Where did the Sorenson go?
The Original Precision Series Pipettor by Sorenson is available from MJS BioLynx Inc.!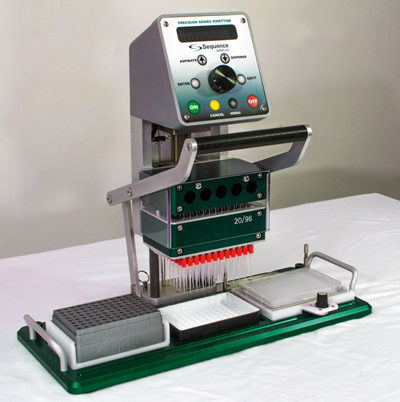 Please note: The Sorenson Pipettor only works with Sorenson pipette tips.