The Leading Migration Assay Products Available from BioLynx

For years, Platypus Technologies has been known for developing products that meet the high standards scientists, biologists, and medical professionals expect. Their quality products run the gamut from cell migration applications to cell culture solutions, scanning probe microscopy applications, and more.
For the reasons mentioned above, Canada's BioLynx is delighted to provide our clients with affordable and effective migration assay solutions from Platypus Technologies. As a leading Canadian distributor, we've decided to highlight some of the outstanding Platypus products we carry below.
Oris™ Cell Migration Assay

Equipped with a 96-well plate with a stopper, the Oris™ Cell Migration Assay from Platypus Technologies creates a "Cell-Free" detection zone for migration experiments. It's designed for easy use, enabling users to simply remove the stopper and allow cells to move into the detection zone at the center of each well. This product can easily help identify cell migration inhibitors and promoters, making it perfect for researchers in academia and pharmaceuticals. It gives them the tools they need to perform studies in compound screening, drug discovery, wound healing, and cancer research.
Other highlights include:
High sample-to-sample reproducibility
Robust Z Factors
Excellent data precision
Compatibility with plate readers and high-content analyzers for automation
Extracellular Matrix Remains Intact
Oris™ Pro Cell Migration Assay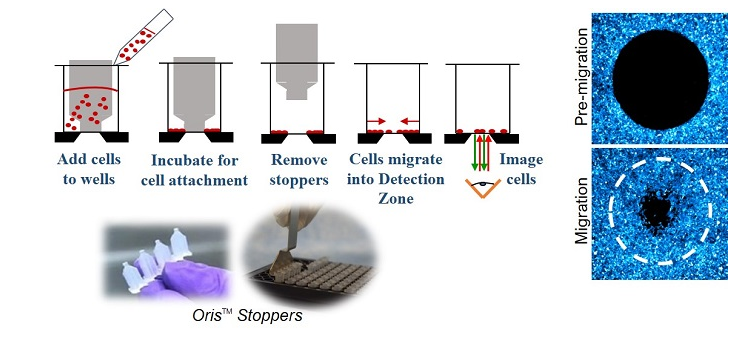 Like its counterpart, the Oris™ Pro Cell Migration Assay is available from BioLynx in 96-well plates, as well as a larger version of 384-well plates. The biocompatible gel (BCG) in each well provides the perfect cell-free detection zones for experimentation and migration applications. After an hour, the gel dissolves and the cells are then able to move into the center of the well. This particular product has a variety of applications for those in the biotechnology and pharmaceutical sector, especially teams using high-throughput screening tools.
Other advantages are:
No-wash steps or additional reagents required
No handling required
Low well-to-well variation
Can be used with any adherent cell line
Why Choose BioLynx?
For over two decades, BioLynx has distributed life science products to scientists and researchers across Canada. In addition to migration assay kits, we also carry innovative products for micro and molecular biology, protein chemistry, immunology, and a variety of other applications.
From August to October 31st, BioLynx is offering 20% off all Oris™ and Oris™ Pro Cell Migration Assays, so contact us online today or call our team toll free at 1 (888) 593-5969 to place your order!