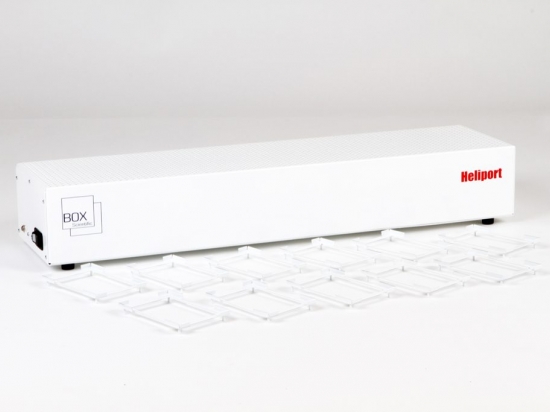 Heliport Rack Thawing Station Demo Unit
Special Offer:
A special Sale Price is shown in red below and is valid for items in stock only, while quantities last. Cannot be combined with other offers or discounts.
Product Description
Heliport brings a new paradigm to procedural sample handling. Utilizing the same convection principles as our Station One, Heliport is the largest sample thawing system on the market, and the first with automation integration capability. Whether at the bench, or as part of your automated process, Heliport's powerful convection system reduces thaw times up to 75%, while allowing seamless transition of thawed samples directly into your automated process.
Seven 92mm fans for over 120 cfm of convection power
Large, custom-configurable thawing surface accommodating up to 11 microplates or microtube racks at a time
11 SBS cradles for static positioning in 'portrait' or 'landscape' orientation or combinations of both
6 ft remote I/O control cable for plug-and-play integration to Tecan SMIO boards or other 24v auxiliary power sources
Energy efficient design draws just 12V and 1500mA
Complete thawing of up to 11 microplates or microtube racks in as little as 15 minutes
Resources
Product Options
Product Number
Description
Package Size
List Price (CAD)
BOX130070000D
Heliport Rack Thawing Station Demo Unit - Sale Item
Each

CA$1,000.00

Add to Cart
List Prices are displayed.
Please register or log-in to the site to view your organization's prices, or please add the products to your cart and click the "Request a Quote" button to receive price and availability information (include quantities for each product and indicate either a one-time purchase or your annual usage.)