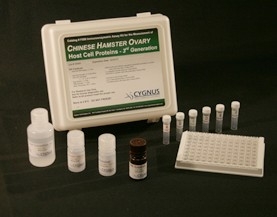 Product Description
CYGF650R uses a replacement antibody from that used in the CYGF650 kit, which is nearing depletion.
CYGF650R incorporates some improvements over the CYGF650 Kit.
HCP levels should be similar by both assays.
First time users of HEK 293 ELISA analysis are encouraged to order CYGF650R.
Current users of the CYGF650 kit should perform equivalency or bridging studies with the CYGF650R kit, as the CYGF650 kit is projected not to be available after late 2017.
Resources
Product Options
Product Number
Description
Package Size
List Price (CAD)
CYGF650
HEK 293 HCP ELISA kit
1 kit
--
Add to Cart
CYGF650R
HEK 293 HCP ELISA Kit
1 kit

CA$1,399.00

Add to Cart
List Prices are displayed.
Please register or log-in to the site to view your organization's prices, or please add the products to your cart and click the "Request a Quote" button to receive price and availability information (include quantities for each product and indicate either a one-time purchase or your annual usage.)