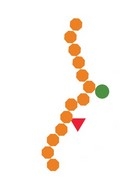 Histone H3 K4Ac Peptide, Biotinylated
Supplier: EpiCypher
Storage Conditions: Lyophilized peptides are stable for 2 years at -20°C from date of shipment. Peptides in solution are stable for 6 months at -80°C. Spin vial briefly in microfuge and reconstitute with sterile distilled water and vortex briefly until resuspended. Aliquot peptide to avoid repeated freezing and thawing.
Product Description
A synthetic peptide derived from human histone H3.1, amino acids 1-20, acetylated at lysine 4, with an added lysine residue containing a biotin moiety at the epsilon-amino group, and a C-terminal amide group (CONH2).
Sequence: ARTK(Ac)QTARKSTGGKAPRKQL-K(Biot)-CONH2
Resources
Product Options
Product Number
Description
Package Size
List Price (CAD)
EP120002
Histone H3 K4Ac Peptide, Biotinylated
50 µg

CA$163.10

Add to Cart
List Prices are displayed.
Please register or log-in to the site to view your organization's prices, or please add the products to your cart and click the "Request a Quote" button to receive price and availability information (include quantities for each product and indicate either a one-time purchase or your annual usage.)