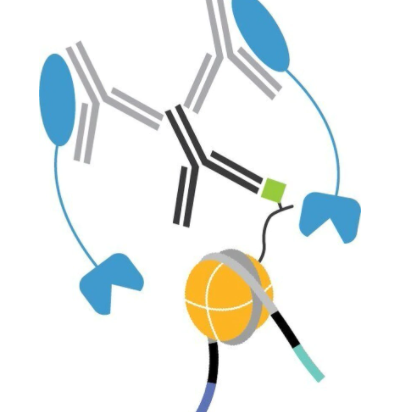 CUTANA™ CUT&Tag Core Reagents Bundle
Product Description
The CUTANA™ CUT&Tag Core Reagents Bundle brings together the essential components of a CUT&Tag kit, offering a significant cost savings over purchasing each individual reagent. Detailed instructions for using the bundled reagents can be found in the EpiCypher CUT&Tag protocol (epicypher.com/protocols). Included are ConA magnetic beads for immobilizing nuclei or cells, control antibodies, anti-rabbit secondary antibody, spike-in controls, pAG-Tn5 for antibody-targeted chromatin tagmentation, and PCR master mix for library amplification. The positive and negative control antibodies (H3K4me3, IgG) can be paired with the SNAP-CUTANA™ K-MetStat Panel of spike-in controls for assay optimization and reaction monitoring.
Resources
Product Options
Product Number
Description
Package Size
List Price (CAD)
EP141101
CUTANA™ CUT&Tag Core Reagents Bundle, 50 Reactions
KIT

CA$2,028.00

Add to Cart
List Prices are displayed.
Please register or log-in to the site to view your organization's prices, or please add the products to your cart and click the "Request a Quote" button to receive price and availability information (include quantities for each product and indicate either a one-time purchase or your annual usage.)