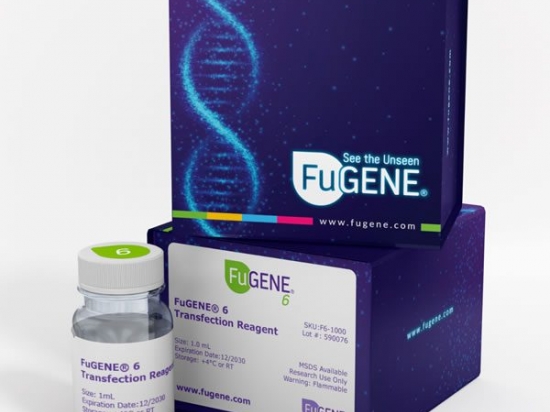 FuGENE® 6 Transfection Reagent
Special Offer:
A special Sale Price is shown in red below and is valid for items in stock only, while quantities last. Cannot be combined with other offers or discounts.
Product Description
FuGENE 6® is the original multi-component, non-liposomal transfection reagent that allows for the efficient delivery of all sizes of DNA into a broad range of cell types with extremely low cytotoxicity. FuGENE 6® saves time and resources because it minimizes reagent preparation, media changes, and optimization. It also eliminates the side effects of toxicity while providing high transfection efficiency, which leads to successful transfection of more than 800 cell lines. FuGENE 6® can be used for the study of gene expression, cancer biology, cell-based protein, and for many other applications in functional genomics, proteomics and cellular analysis.
Resources
Product Options
Product Number
Description
Package Size
List Price (CAD)
FGF61000
FuGENE® 6 Transfection Reagent - Sale Item
1mL

CA$300.00

Add to Cart
List Prices are displayed.
Please register or log-in to the site to view your organization's prices, or please add the products to your cart and click the "Request a Quote" button to receive price and availability information (include quantities for each product and indicate either a one-time purchase or your annual usage.)