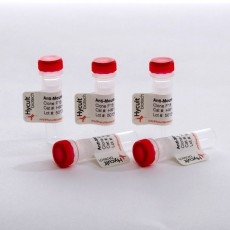 IFN-gamma, Mouse, Recombinant (CHO derived)
Product Description
This glycosylated interferon is constitutively produced by Chinese Hamster Ovary (CHO) cells. The CHO cells have been transformed by a plasmid containing mouse coding sequences for gamma interferon as well as for dihydrofolate reductase. Biochemical analysis of CHO-derived mouse gamma interferon and gamma interferon as produced by mouse splenocytes revealed no structural differences. The major advantage of CHO-cell derived hi-pure recombinant mouse gamma interferon over natural mouse gamma interferon is the absence of contaminating lymphokines. This ensures that the effects observed in experimental results can be attributed exclusively to the hi-pure mouse gamma interferon used. One unit of Hycult Biotech Mouse Gamma Interferon approximates the bioactivity contained in one unit of the mouse gamma interferon standard prepared by NIH (Gg02-901-533).
Resources
Product Options
Product Number
Description
Package Size
List Price (CAD)
HYBHC102001
IFN-gamma, Mouse, Recombinant (CHO-Derived)
10E5 units
--
Add to Cart
HYBHC102010
IFN-gamma, Mouse, Recombinant (CHO derived)
10E6 units
--
Add to Cart
List Prices are displayed.
Please register or log-in to the site to view your organization's prices, or please add the products to your cart and click the "Request a Quote" button to receive price and availability information (include quantities for each product and indicate either a one-time purchase or your annual usage.)