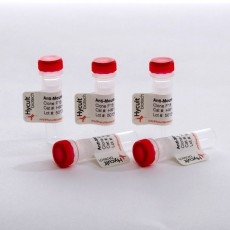 C5a des Arg, Mouse, Recombinant
Product Description
Complement fragment C5a is a 74-residu glycopolypeptide which is generated by proteolytic cleavage of the complement factor C5 in the course of complement activation. C5a is a potent chemoattractant and anaphylatoxin that acts on all classes of leukocytes and on many other cell types including endothelial, smooth muscle, kidney, liver, and neural cells. In addition to its proinflammatory effects, C5a has been shown to protect cells against toxic insult and to stimulate proliferation in neurons and hepatocytes, suggesting a wider role for C5a in homeostasis. C5a is rapidly desarginated by serum carboxypeptidase N to the less potent derivate C5a desArg, the first stage in deactivation of anaphylatoxin activity. The C5a desArg form has a different spectrum of bioactivity to intact C5a. Recombinant mouse C5a is His-Tagged and has the following amino acid sequence: MRGSHHHHHHGSDYDIPTTENLYFQGGSNLHLLRQKIEEQAAKYKHSVPKKCCYDGARVNFYET_x000D_
CEERVARVTIGPLCIAFNECCTIANKIRKESPHKPVQLG. The molecular weight of the protein is 12 kg/mol. _x000D_
.
Resources
Product Options
Product Number
Description
Package Size
List Price (CAD)
HYBHC1102
C5a des Arg, Mouse, Recombinant
>50 µg
--
Add to Cart
List Prices are displayed.
Please register or log-in to the site to view your organization's prices, or please add the products to your cart and click the "Request a Quote" button to receive price and availability information (include quantities for each product and indicate either a one-time purchase or your annual usage.)