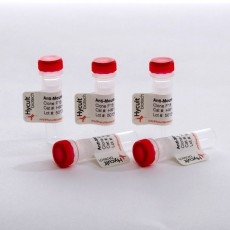 Product Description
The orphan receptor C5L2 (also known as gpr77), which shares 35% amino identity with CD88, is a promiscuous complement fragment-binding protein. C5L2 binds C5a with high affinity. It has a 10-fold higher affinity for C5a desArg than CD88. C5L2 also has an affinity for C4a and C3a, and their metabolites C4a desArg and C3a desArg. C3a binds at a side distinct from the C5a binding site. Unlike other chemoattractant receptors C5L2 couples poorly to the intracellular signalling and internalisation machinery. The mouse C5L2 peptide is a N-terminal peptide (2-28) and has the following amino acid sequence: MMNHTTSEYYDYEYDHEHYSDLPDVPVDC.
Resources
Product Options
Product Number
Description
Package Size
List Price (CAD)
HYBHC1103
C5L2, Mouse, Peptide
10 µg
--
Add to Cart
List Prices are displayed.
Please register or log-in to the site to view your organization's prices, or please add the products to your cart and click the "Request a Quote" button to receive price and availability information (include quantities for each product and indicate either a one-time purchase or your annual usage.)