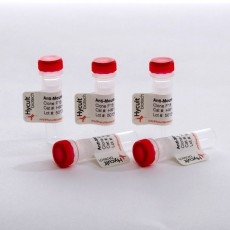 A-FABP, Mouse, Recombinant (E-Coli-derived)
Product Description
Adipocyte Fatty Acid Binding Protein (A-FABP), also known as FABP4, aP2 and ALBP, is a 15 kDa protein and is one of the most abundant proteins in mature adipocytes. Human and mouse A-FABP share 91% amino acid sequence homology. Several adipokines from adipose tissues have been identified. The y mediate the cross talk between adipose tissue and the cardiovascular system. This interaction between adipose tissue, macrophages and several inflammatory cells leads to expression of, besides A-FABP, among others TNF-α, IL-6, MCP-1, leptin, lipocalin-2 and Pai-1. A-FABP is expressed in macrophages and lymphocytes. A-FABP plays a role in the intracellular utilization of fatty acids, transport and metabolism. The putative function of A-FABP is to serve as a lipid-binding chaperone for fatty acids. The protein was identified as a cytoplasmic protein, but is also described to be secreted by adipose tissue in the bloodstream. A-FABP have closely been associated with metabolic syndrome, obesity and atherosclerosis. It is considered as a therapeutic target for these processes in animal models. Several groups have demonstrated an association between serum levels of A-FABP and obesity-related cardiometabolic risk factors, endothelial dysfunction and macrovascular complications of diabetes. The proatherogenic activity of A-FABP is mediated by its direct actions on macrophages, independently of lipid metabolism and insulin sensitivity. In line with clinical findings, data from animal studies also supports a role of A-FABP in cardiovascular disease. HC1104 recombinant protein has been isolated from bacteria using affinity purification.
Resources
Product Options
Product Number
Description
Package Size
List Price (CAD)
HYBHC1104
A-FABP, Mouse, Recombinant (E-Coli-derived)
50 µg
--
Add to Cart
List Prices are displayed.
Please register or log-in to the site to view your organization's prices, or please add the products to your cart and click the "Request a Quote" button to receive price and availability information (include quantities for each product and indicate either a one-time purchase or your annual usage.)