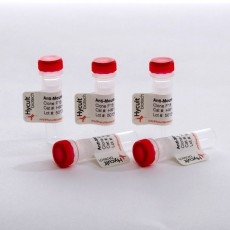 E-FABP, Mouse, Recombinant (E-Coli-derived)
Product Description
FABPs are small intracellular proteins (~ 13-14 kDa) with a high affinity for small lipophilic ligands and were named according to the tissue from which they were initially isolated (FAPB5, alias E-FABP, was originally isolated in the epidermal). FABPs are involved in the uptake and metabolism of fatty acids, in the maintenance of cellular membrane fatty acid levels, in intracellular trafficking of these substrates, in the modulation of specific enzymes of lipid metabolic pathways, and in the modulation of cell growth and differentiation. Members of the FABP family have a highly conserved sequence, 22-73% amino acid sequence similarity._x000D_
FABP5 is one of the at least nine distinct types of FABP. FABP5 is expressed in skin, brain, lens, capillary, endothelium and retina. Elevated levels of FABP5 have been seen in prostate and bladder carcinoma._x000D_
Recombinant mouse FABP5 is His-tagged and has the following amino acid sequence:_x000D_
MRGSHHHHHHGMASMTGGQQMGRDLYDDDDKDRWGSMASLKDLEGKWRLMESHGFEEYMKELGVGL_x000D_
ALRKMAAMAKPDCIITCDGNNITVKTESTVKTTVFunctional StudiesCNLGEKFDETTADGRKTETVCTFQDGALVQHQ_x000D_
QWDGKESTITRKLKDGKMIVECVMNNATCTRVYEKVQ (His-tag is underlined, bold sequence is Mouse FABP5).
Resources
Product Options
Product Number
Description
Package Size
List Price (CAD)
HYBHC1105
E-FABP, Mouse, Recombinant (E-Coli-derived)
50 µg
--
Add to Cart
List Prices are displayed.
Please register or log-in to the site to view your organization's prices, or please add the products to your cart and click the "Request a Quote" button to receive price and availability information (include quantities for each product and indicate either a one-time purchase or your annual usage.)