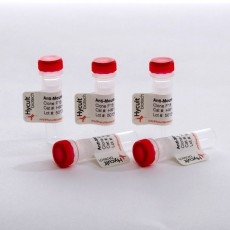 IFN-gamma, Human, Recombinant (E.Coli-Derived)
Product Description
Human interferons are grouped into three major classes: interferon-alpha (IFN-alpha), interferon-beta (IFN-beta), and interferon-gamma (IFN-gamma). An extensive variety of biological effects have been observed for the interferon family including antiviral activity, anti-proliferative activity; stimulation of cytotoxic activities in lymphocytes, natural killer cells and macrophages, and modulation of the major histocompatibility complex. IFN-gamma is produced by only two cell types, T-cells and large granular lymphocytes. IFN-gamma probably exists in its native form as a dimer of the two active species of 20 and 25 kD respectively. Recombinant human IFN-gamma is purified from E.coli transfected with the human interferon gamma gene. One unit of Hycult Biotech Human Gamma Interferon approximates the bioactivity contained in one unit of the human gamma interferon standard prepared by NIH (Gg23-901-530).
Resources
Product Options
Product Number
Description
Package Size
List Price (CAD)
HYBHC203001
IFN-gamma, Human, Recombinant (E.Coli-Derived)
10E5 units
--
Add to Cart
HYBHC203010
IFN-gamma, Human, Recombinant (E.Coli-Derived)
10E6 units
--
Add to Cart
List Prices are displayed.
Please register or log-in to the site to view your organization's prices, or please add the products to your cart and click the "Request a Quote" button to receive price and availability information (include quantities for each product and indicate either a one-time purchase or your annual usage.)