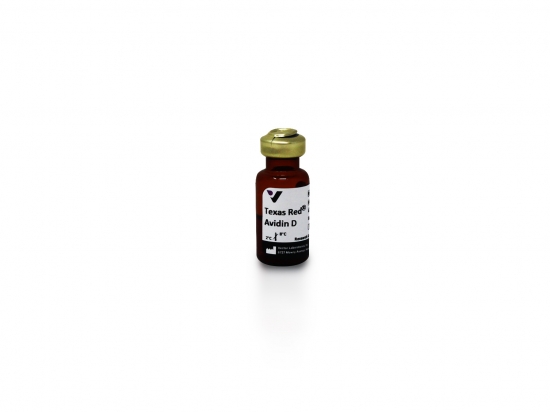 Product Description
Texas Red Avidin D, 5 mg, is a highly fluorescent conjugate of Avidin D and sulforhodamine 101. Texas Red Avidin D excites at about 595 nm and has an emission maximum at about 615 nm. Since the excitation and emission maxima are well separated from those of fluorescein, Texas Red Avidin D can be employed with Fluorescein Avidin D or other fluorescein conjugates to simultaneously localize two antigens in the same tissue section. Texas Red Avidin D is also ideal for flow cytometry using instruments equipped with dye lasers.
Resources
Product Options
Product Number
Description
Package Size
List Price (CAD)
VECTA2006
Texas Red® Avidin D, 5 mg
5MG

CA$329.40

Add to Cart
List Prices are displayed.
Please register or log-in to the site to view your organization's prices, or please add the products to your cart and click the "Request a Quote" button to receive price and availability information (include quantities for each product and indicate either a one-time purchase or your annual usage.)