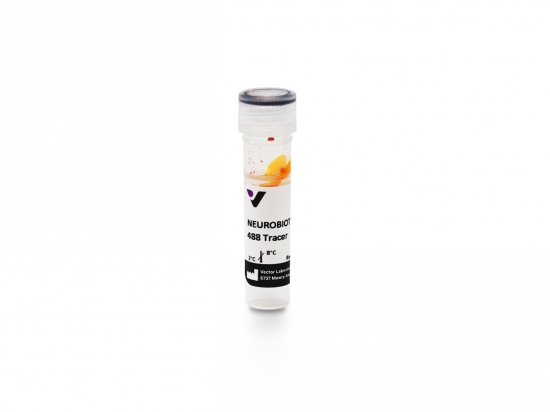 Product Description
NEUROBIOTIN 488 Tracer, 2 mg, is a tri-functional molecule designed for neuronal tracing and cell filling. Features: Bright green fluorophore, similar in fluorescence to fluorescein, Cy2, or Alexa Fluor 488; Biotin label with a biotinidase-resistant linkage; Fixable primary amine. NEUROBIOTIN 488 Tracer is transported along axons and fine projections and is compatible with patch clamp applications and pressure injection methods. NEUROBIOTIN 488 Tracer is readily fixed with standard aldehyde-based fixatives. This tracer can be viewed directly under fluorescence microscopy. The tracer can be detected and amplified via the biotin moiety with fluorescent or enzyme-based avidin or streptavidin detection systems.
Resources
Product Options
Product Number
Description
Package Size
List Price (CAD)
VECTSP1125
NEUROBIOTIN® 489 Tracer, 2 mg
2MG

CA$166.30

Add to Cart
List Prices are displayed.
Please register or log-in to the site to view your organization's prices, or please add the products to your cart and click the "Request a Quote" button to receive price and availability information (include quantities for each product and indicate either a one-time purchase or your annual usage.)