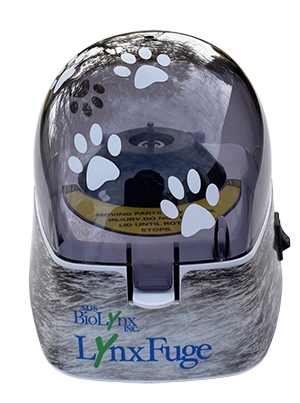 LynxFuge Mini Centrifuge
Special Offer:
Special Introductory Pricing on our NEW Benchtop Buddies! Want MORE Savings? Save over 20% and purchase all 3 in a BLBUDDIESBUNDLE for ONLY $444 until December 31, 2022!  This special price cannot be combined with other offers or discounts.
Product Description
Ergonomically designed with a small footprint.
The clear cover made of high strength plastic affords high visibility of samples.
Mini centrifuges are manufactured to precise specifications using the highest grade materials, resulting in smooth runs.
Open lid cut off switch: the mini centrifuge will stop automatically when the lid is open.
Digitally controlled power circuitry ensures precise rotating speed.
Different sized tubes can be centrifuged using our comprehensive selection of accessories.
Resources
Product Options
Product Number
Description
Package Size
List Price (CAD)
BLFUGEBUDDY
LynxFuge Mini Centrifuge, 6000rpm, 110V
EACH

CA$236.00

Add to Cart
List Prices are displayed.
Please register or log-in to the site to view your organization's prices, or please add the products to your cart and click the "Request a Quote" button to receive price and availability information (include quantities for each product and indicate either a one-time purchase or your annual usage.)