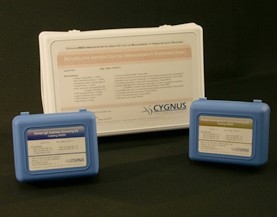 Human Immunoglobulin Class Screening Kit
Product Description
Contains individual, highly specific anti-human immunoglobulin class antibodies (anti-human IgA, anti-human IgD, anti-human IgE, anti-human IgG gamma chain specific, and anti-human IgM) labeled with the enzyme horseradish peroxidase (HRP).
When appropriately diluted, these antibody:HRP conjugates can be used for identifying the type of antibody response to a particular antigen.
Because of the specificity of these conjugates, they can also be used as labels in ELISA for quantitation of the individual immunoglobulin classes.
Resources
Product Options
Product Number
Description
Package Size
List Price (CAD)
CYGIM40
Human Immunoglobulin Screening Kit
1 kit
--
Add to Cart
List Prices are displayed.
Please register or log-in to the site to view your organization's prices, or please add the products to your cart and click the "Request a Quote" button to receive price and availability information (include quantities for each product and indicate either a one-time purchase or your annual usage.)