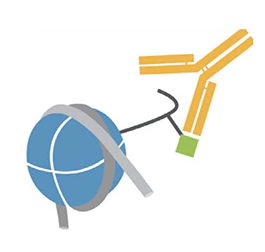 Histone H3K18acyl Antibody, SNAP-ChIP™ Certified
Supplier: EpiCypher
Storage Conditions: Store at 4°C after thawing. Aliquot and store at -20°C. Avoid repeated freeze / thaw cycles. Stable for 1 year at -20°C from date of receipt.
Product Description
This antibody meets EpiCypher's "SNAP-ChIP™ Certified" criteria for specificity and efficient target enrichment in a ChIP experiment (<20% cross-reactivity across the panel, >5% recovery of target input) based on technology originating from Grzybowski et al. [1] and profiling standards from Shah et al. [2]. This antibody reacts to H3K18 acetylation as well as extended acyl states (butyrylation, bu; crotonylation, cr) when present alone and in combination (H3K4,9,14,18ac). No cross reactivity to other lysine acylations in the EpiCypher SNAP-ChIP K-AcylStat panel (EpiCypher 19-3001) is detected.
Resources
Product Options
Product Number
Description
Package Size
List Price (CAD)
EP130050
Histone H3K18acyl Antibody, SNAP-ChIP™ Certified
100 µL

CA$692.00

Add to Cart
List Prices are displayed.
Please register or log-in to the site to view your organization's prices, or please add the products to your cart and click the "Request a Quote" button to receive price and availability information (include quantities for each product and indicate either a one-time purchase or your annual usage.)