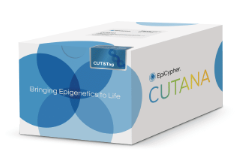 CUTANA™ CUT&Tag Kit
Supplier: EpiCypher
Storage Conditions: OPEN KIT IMMEDIATELY and store components at room temperature, 4°C, and -20°C as indicated (see User Manual corresponding to Kit Version 1). Stable for 6 months upon date of receipt.
Special Offer:
Save 15% on the New CUT&Tag Kit! Promotion Code EPCTK15. Valid through September 30, 2023. Cannot be combined with other offers or discounts.
Product Description
Cleavage Under Targets and Tagmentation (CUT&Tag) assays use a fusion of protein A, protein G, and Tn5 (pAG-Tn5) to selectively target antibody-labelled chromatin for high-resolution sequencing analysis. These innovations enable low-cost mapping from small numbers of cells – poising CUT&Tag to enable epigenomic studies of unprecedented breadth and scale. Advantages include:
Streamlined two-day protocol with no library prep
Exclusive single-tube workflow maximizes yield
Reliable profiling using low cell numbers
Dramatically reduced assay costs
Comprehensive kit goes from cells to sequence-ready DNA
Resources
Product Options
Product Number
Description
Package Size
List Price (CAD)
EP141102
CUTANA™ CUT&Tag Kit with Primer Set 1
KIT

CA$4,019.00

Add to Cart
EP141103
CUTANA™ CUT&Tag Kit with Primer Set 2
KIT

CA$4,019.00

Add to Cart
List Prices are displayed.
Please register or log-in to the site to view your organization's prices, or please add the products to your cart and click the "Request a Quote" button to receive price and availability information (include quantities for each product and indicate either a one-time purchase or your annual usage.)