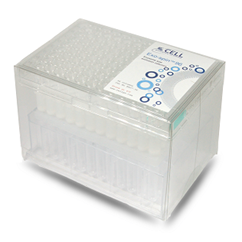 Product Description
Exo-spin™ is a modular system that adapts to your changing research needs by providing purification of exosomes from a wide variety of sample inputs for a range of downstream applications.
Exo-spin™ uses size exclusion chromatography (SEC) columns. A proprietary precipitant buffer may be used to concentrate exosomes before purification on the column. This precipitation is optional for blood, but for other exosome sources, including urine and cell culture media, the samples need concentrating prior to application. Alternative concentrating technologies, such as filtration, may also be used.
Exo-spin™ columns are available with a variety of resin volumes and bed lengths. The shorter bed lengths provide more rapid protocols and lower costs. For the majority of downstream applications, the 99% purity provided by Exo-spin™ mini, the shortest Exo-spin™ column, provides excellent results.
Resources
Product Options
Product Number
Description
Package Size
List Price (CAD)
CGSEX0796
Exo-spin™ 96
EACH

CA$1,104.00

Add to Cart
List Prices are displayed.
Please register or log-in to the site to view your organization's prices, or please add the products to your cart and click the "Request a Quote" button to receive price and availability information (include quantities for each product and indicate either a one-time purchase or your annual usage.)