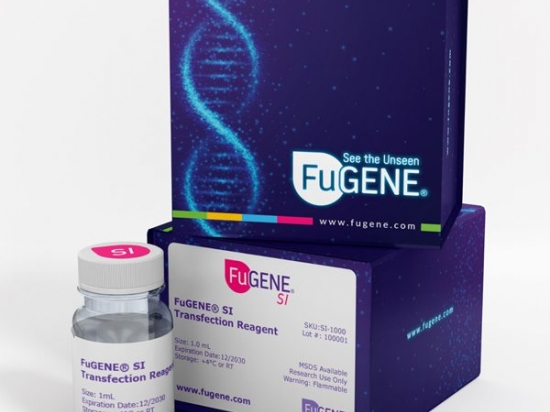 FuGENE® SI Transfection Reagent
Product Description
FuGENE® SI is a novel, multicomponent transfection reagent for high efficiency, and low toxicity delivery of siRNA, miRNA, and other short RNAs into common and difficult-to-transfect eukaryotic cells. FuGENE® SI enables researchers to obtain superior gene silencing and knockdown efficiencies while utilizing lower amounts of siRNAs. The simple, easy-to-use protocol with minimal optimization allows users to free up valuable lab time. Compatible with all commercially available and lab-synthesized siRNAs and miRNAs. See the Unseen® with FuGENE® SI.
Resources
Product Options
Product Number
Description
Package Size
List Price (CAD)
FGSI1000
FuGENE® SI Transfection Reagent
1mL

CA$709.00

Add to Cart
FGSI5000
FuGENE® SI Transfection Reagent
5mL

CA$3,252.00

Add to Cart
List Prices are displayed.
Please register or log-in to the site to view your organization's prices, or please add the products to your cart and click the "Request a Quote" button to receive price and availability information (include quantities for each product and indicate either a one-time purchase or your annual usage.)