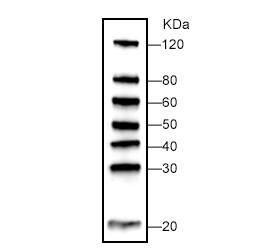 WB-MASTER Protein Standard
Supplier: GenScript
Storage Conditions: Store at -20°C. Avoid repeated freezing and thawing
Product Description
WB-MASTER Protein Standard is designed for convenient protein identification in western blot. This standard consists of seven recombinant proteins with molecular weight of 20 kDa, 30 kDa, 40 kDa, 50 kDa, 60 kDa, 80 kDa and 120 kDa. Each of the proteins contains an IgG binding site that is able to bind to primary or secondary antibodies derived from a wide range of host species. The standard thus enables direct visualization of both the protein marker and users' samples on the same western blot membrane without any additional reagents.
Resources
Product Options
Product Number
Description
Package Size
List Price (CAD)
GENM00521
WB-MASTER Protein Standard
250 µL

CA$93.30

Add to Cart
List Prices are displayed.
Please register or log-in to the site to view your organization's prices, or please add the products to your cart and click the "Request a Quote" button to receive price and availability information (include quantities for each product and indicate either a one-time purchase or your annual usage.)