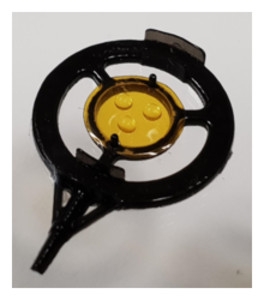 Product Description
The XtalTool is a patent-pending 22 mm sample holder consisting of a plastic support with an outer transparent COC film and an inner X-ray transparent yellow Kapton film with 5 μm pores.
The design allows the setup of multiple crystallization drops and does not compromise the monitoring of crystals under a microscope.
Mounted on the supplied goniometer base, it meets the 18 mm SPINE standard and is compatible with most synchrotron and in-house beamlines.
Enables crystal growth, manipulation and X-ray data collection at room and cryogenic temperature, all in one.
Resources
Product Options
Product Number
Description
Package Size
List Price (CAD)
JBXXT101
XtalTool All-in-One Tool for sensitive Crystals
24

CA$280.30

Add to Cart
List Prices are displayed.
Please register or log-in to the site to view your organization's prices, or please add the products to your cart and click the "Request a Quote" button to receive price and availability information (include quantities for each product and indicate either a one-time purchase or your annual usage.)