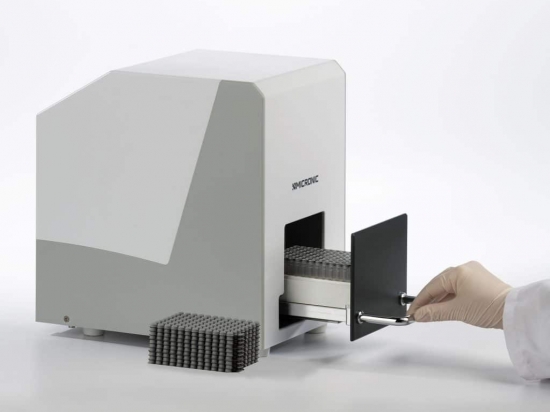 Micronic Push Cap Cappers CP600 and CP610
Product Description
The Push Cap Decapper CP600 & CP610 can cap the following Micronic Push Caps on 96-format tubes with internal thread (0.50ml, 0.75ml, 1.10ml, 1.40ml, 2.00ml and 2.50ml) in rack: TPE Capmats, Capbands and Capclusters, and EVA Capmats.
For your convenience the capper operates without any buttons. Simply pull the drawer out of the capper, place a rack filled with tubes on the drawer, and place the capmat, capband or capcluster on the tubes. Push the drawer inside the capper and the capping will start automatically.
Resources
Product Options
Product Number
Description
Package Size
List Price (CAD)
MSMP35021
Micronic Push Cap Capper CP610 (for tubes sizes up to 2.00ml in 96-format)
Each

CA$9,537.00

Add to Cart
MSMP35020
Micronic Push Cap Capper CP600 (for tubes sizes up to 1.40ml in 96-format)
Each

CA$8,928.00

Add to Cart
List Prices are displayed.
Please register or log-in to the site to view your organization's prices, or please add the products to your cart and click the "Request a Quote" button to receive price and availability information (include quantities for each product and indicate either a one-time purchase or your annual usage.)