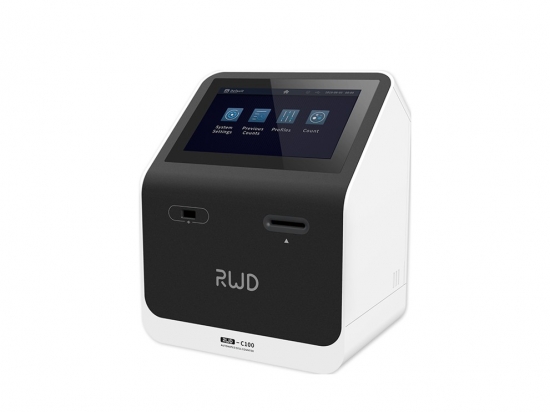 Automated Cell Counter
Special Offer:
Purchase the RWDC100 Automated Cell Counter and receive 10 Packages of RWDDS50 Disposable Slides FREE! Promotion Code RWDSLIDE22. Valid until December 31, 2022. Cannot be combined with other offers or discounts.
Product Description
High-definition imaging system and independently developed recognition algorithm technology enables C100 to count and analyze stem cells, primary cells and cell lines accurately
In bright field mode, a count can be completed in 15 seconds; Fast counting mode takes 3 seconds only
Built-in dilution calculator provides a dilution solution quickly based on the existed counting result
Multiple data display and storage, including cell images, diameter distribution histograms, count results, live and dead cells percentage
Convenient for storage and analysis, PNG, JEPG, CSV, PDF, etc.
1,000 historical counts can be stored in the device or exported via USB
Product Options
Product Number
Description
Package Size
List Price (CAD)
RWDC100
Automated Cell Counter
Each

CA$6,412.00

Add to Cart
RWDDS50
Disposable Slides
PK50

CA$91.60

Add to Cart
RWDFLCUBE01
FL Cube (DAPI), Ex:375/28nm; Em:460/50nm
Each

CA$2,290.00

Add to Cart
RWDFLCUBE02
FL Cube (AO/GFP), Ex:480/30nm; Em:535/40nm
Each

CA$2,290.00

Add to Cart
RWDFLCUBE03
FL Cube (PI), Ex:540/25nm; Em:575/lp nm
Each

CA$2,290.00

Add to Cart
List Prices are displayed.
Please register or log-in to the site to view your organization's prices, or please add the products to your cart and click the "Request a Quote" button to receive price and availability information (include quantities for each product and indicate either a one-time purchase or your annual usage.)