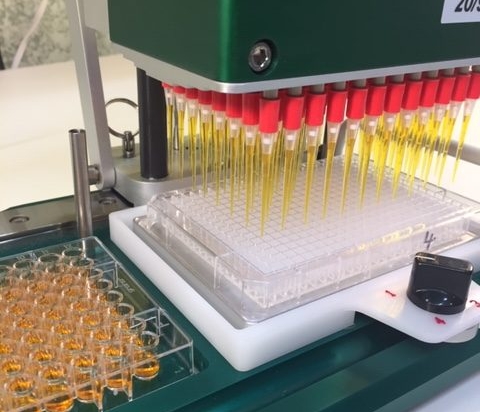 384 EZ Tray Adaptor for Precision Series Plus Pipettors
Product Description
Populate 384-well plates with a 96-channel pipettor using this "Easy Tray" adaptor. It is accurate, intuitive and easy to use. A knob rotates four times to align all wells of a 384-well plate under the 96 channel pipette tips. Each position positively clicks in place without needing to align by hand; the microplate is not handled during the process, eliminating the possibility of contamination. Works with Precision Series and Precision Series Plus Pipettors.
Resources
Product Options
Product Number
Description
Package Size
List Price (CAD)
SEQ54563
384 EZ Tray Adaptor for Precision Series Plus Pipettors
Each

CA$574.00

Add to Cart
List Prices are displayed.
Please register or log-in to the site to view your organization's prices, or please add the products to your cart and click the "Request a Quote" button to receive price and availability information (include quantities for each product and indicate either a one-time purchase or your annual usage.)