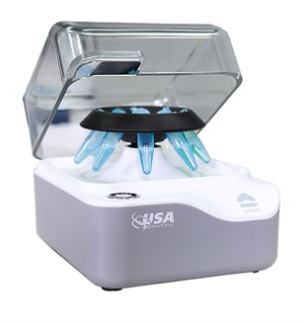 Product Description
Take a quick spin with your own Personal Minicentrifuge! The sleek design and compact footprint takes up minimal space on your workbench and is portable enough for use in a fume hood. It's your perfect lab partner for quick spin-downs of condensate, vortexed, or thawed samples. The Personal Minicentrifuge is ideally suited for applications requiring relatively low centrifugal forces, such as microfiltration and cell separation.
Included with your Personal Minicentrifuge unit are an 8-place 1.5/2.0 mL microcentrifuge tube rotor with adapters for both 0.5 mL and 0.2 mL tubes, a PCR strip rotor, and a power adapter for 100-240V with 4 international plugs. Includes a 2-year warranty.
Product Options
Product Number
Description
Package Size
List Price (CAD)
US80305000
Personal Minicentrifuge
Each

CA$508.00

Add to Cart
List Prices are displayed.
Please register or log-in to the site to view your organization's prices, or please add the products to your cart and click the "Request a Quote" button to receive price and availability information (include quantities for each product and indicate either a one-time purchase or your annual usage.)