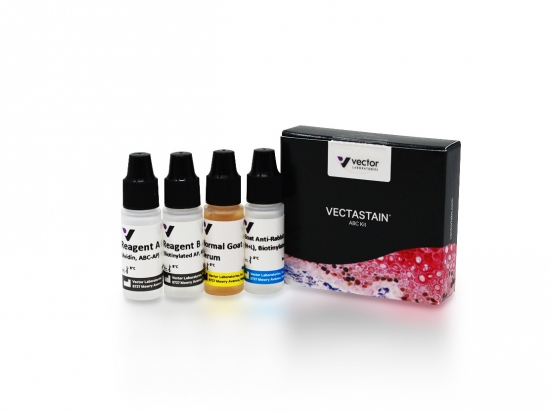 VECTASTAIN® ABC-AP Kit, Alkaline Phosphatase (Rabbit IgG)
Product Description
VECTASTAIN ABC-AP Kit, Alkaline Phosphatase (Rabbit IgG), 1 Kit. Based on the versatile avidin-biotin complex interaction, the VECTASTAIN ABC AP Staining system is modular and, with Vector Laboratories' selection of secondary antibodies, can accommodate a wide array of primary antibody and tissue species. ABC kits are economical and are a staple product in IHC and ICC laboratories. The VECTASTAIN ABC Reagent can be used to detect any biotinylated molecule. This is the original avidin/biotin ABC complex formation with a biotinylated anti-rabbit IgG secondary antibody. Features: Alkaline phosphatase enzyme detection system, Avidin/biotin technology, High sensitivity/low background, Preferred for tissues that have high endogenous peroxidase activity, Additional substrate choices, Used as a second label in multiple antigen labeling applications. Kit Contents: 3 ml Normal Goat Serum, 1 ml Biotinylated Goat Anti-Rabbit IgG, 2 ml Reagent A (Avidin DH) plus 2 ml Reagent B (Biotinylated AP).
Resources
Product Options
Product Number
Description
Package Size
List Price (CAD)
VECTAK5001
VECTASTAIN® ABC-AP Kit, Alkaline Phosphatase (Rabbit IgG), 1 Kit
KIT

CA$877.00

Add to Cart
List Prices are displayed.
Please register or log-in to the site to view your organization's prices, or please add the products to your cart and click the "Request a Quote" button to receive price and availability information (include quantities for each product and indicate either a one-time purchase or your annual usage.)