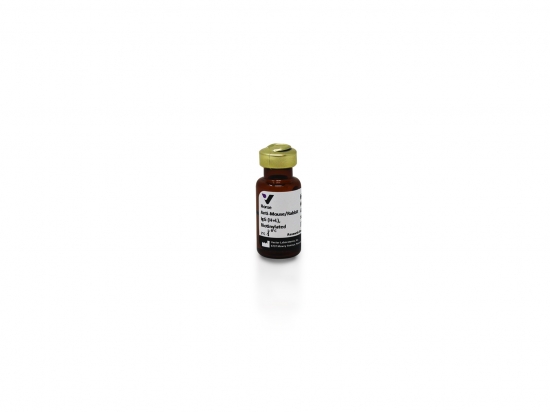 Horse Anti-Mouse/Rabbit IgG (H+L), Biotinylated
Product Description
Horse Anti-Mouse/Rabbit IgG Antibody (H+L) (Universal), Biotinylated, 2.1 mg, binds equally well to both mouse IgG (H+L) and rabbit IgG (H+L) primary antibodies, providing high staining quality and sensitivity equivalent to that obtained with either biotinylated anti-mouse IgG (H+L) or biotinylated anti-rabbit IgG (H+L) used individually. The convenience of using a single biotinylated secondary antibody for both species of primary prevents possible mistakes in using the wrong secondary antibody. This product is supplied in solution and is the same biotinylated secondary antibody included in VECTASTAIN ABC Kits. With some exceptions, the recommended dilution for most applications is 1:50. This antibody has significant crossreactivity for rodent IgG and is not recommended for staining rodent tissue.
Resources
Product Options
Product Number
Description
Package Size
List Price (CAD)
VECTBA1400
Horse Anti-Mouse/Rabbit IgGAntibody (H+L) (Universal), Biotinylated, 2.1 mg
EACH

CA$357.20

Add to Cart
List Prices are displayed.
Please register or log-in to the site to view your organization's prices, or please add the products to your cart and click the "Request a Quote" button to receive price and availability information (include quantities for each product and indicate either a one-time purchase or your annual usage.)