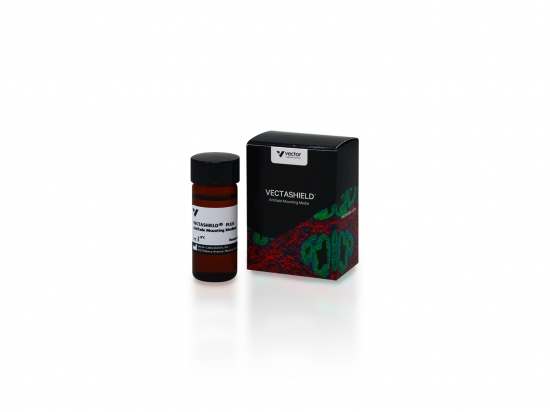 VECTASHIELD® PLUS Antifade Mounting Medium
Product Description
VECTASHIELD PLUS Antifade Mounting Medium, 10 ml, is a unique, stable formula for preserving fluorescence. This medium inhibits rapid photobleaching of fluorescent proteins and fluorescent dyes. Features: No inherent toning or background, Superior signal retention across the spectrum from blue to far red, Mounted sections can be viewed in 1 hour, Available in two convenient sizes, Superior non-setting formulation. VECTASHIELD PLUS Mounting Medium does not solidify, but remains a liquid on the slide and can be stored without sealing. If desired, coverslips can be sealed around the perimeter with nail polish or a plastic sealant. Mounted slides should be stored at 2 to 8 degrees C, protected from light.
Resources
Product Options
Product Number
Description
Package Size
List Price (CAD)
VECTH190010
VECTASHIELD® PLUS Antifade Mounting Medium
10ML

CA$276.50

Add to Cart
VECTH19002
VECTASHIELD® PLUS Antifade Mounting Medium
2ML

CA$83.60

Add to Cart
List Prices are displayed.
Please register or log-in to the site to view your organization's prices, or please add the products to your cart and click the "Request a Quote" button to receive price and availability information (include quantities for each product and indicate either a one-time purchase or your annual usage.)