E-Lynx Newsletter
May 2018
Dear Researcher,
We are pleased to present the e-Lynx, a newsletter devoted to keeping our customers up-to-date on new technologies, our new products, suppliers, activities and promotions.
New Products
New Literature
New Resources
Technical Reports
New Video
Promotions
Events
MJSBioLynx Well Being
---
NEW PRODUCTS

Micronic – Hybrid Coded Tubes with External Thread
A versatile and unique combination of 4 codes on one tube:

White blank surface to write your own sample info
Numeric human-readable on the tube side wall
1D Barcode on the tube side wall
2D Data-Matrix code on the tube bottom
White bottom and side walls cannot be separated from the transparent tube due to a unique injection molding technique
1D, 2D and human-readable codes are permanently laser-etched into the white surfaces
Triple start thread for optimal sealing quality
Improved sample integrity due to external thread (cross-contamination is minimized)
Thick tube walls and sturdy design for storage in ultra-low temperatures
Code surface has a raised edge to protect the 2D code
Produced in certified class-7 clean rooms
Click here for our special offer and find out how you can get a free wireless scanner.
Click here for more information.
Click here to order or request a quote.
---
Mirus Bio – TransIT® Lentivirus System
The TransIT® Lentivirus System combines the novel technologies of the TransIT®-Lenti Transfection Reagent with the Lentivirus Packaging Mix Powered by MISSION®. Titers of 108 can be achieved with an optimized protocol.
Produce 2-3x higher functional titers than Lipofectamine® 2000 & 3000
Achieve even higher titers and eliminate the need to concentrate
No media change required, single harvest
Click here for more information.
Click here to order or request a quote.
---
Hycult Biotech - Alternative Complement Pathway Mouse and Pig ELISAs
Measures the alternative pathway activity mediated via LPS
Complement deficiencies or other defects in the complement system can easily be screened by running an assay for each pathway in parallel or separately
Contains a positive control* which can be used as control to ensure that the alternative complement cascade has run completely
Click here to order or request a quote.
*This positive control cannot be used to determine the level of activation between batches. Hycult Biotech advises to include your own reference sample for 100% complement activity and negative control to determine the level of activation of your samples. Beware that complement activity levels are strain dependent and might be affected by the way the samples are collected and processed.
---

Heathrow – Dual Purpose Lab Scoop
A unique economical solution that combines the function of a scoop and a weigh boat into one product
Made from anti-static polystyrene that is waterproof and reduces the chance of materials sticking to the scoop
Ships and stores flat and when ready to use, is easy to assemble by inserting the locking tab into the hole
Click here to order or request a quote.
---
NEW LITERATURE

Mirus Bio – Transfection into any Cell Type with any Nucleic Acid Brochure
This brochure features Mirus' most robust transfection reagents that provide solutions for hard-to-transfect and common cell types, promoting effective workflow in a number of applications. Choosing a reagent that balances efficient nucleic acid delivery and low cellular toxicity is important to achieve consistent experimental outcomes.
Click here to download.
Contact our Customer Service Team to request a printed copy of this publication.
---
NEW RESOURCES
Vector Laboratories – FREE 5 Part Course: Considerations for Designing Immunohistochemical Procedures

If you've ever struggled to get exceptional IHC staining, you are not alone. Vector Labs has created a new FREE five part IHC video training series that shows you exactly:
How to select your reagents depending on your experimental priorities
How to use ancillary reagents to improve your results
How to optimize your protocol
When to use advanced detection protocols
Click here for more information. (Link to Vector Labs website)
---
TECHNICAL REPORTS

Associates of Cape Cod Inc. - Endotoxin Test Concerns of Biologics
American Pharmaceutical Review™ article re-publication.
Limulus Amoebocyte Lysate (LAL) users are exploring regimens to study the effects of adding endotoxin to undiluted biologics in reaction to studies (Genentech) on Low Endotoxin Recovery (LER) and, moreover, in response to the addition of verbiage to the FDA Q&A Guidance on establishing the "stability of assayable endotoxins content" in biologics.
Click here to read more.
---
NuGEN - Mining the Post-Mortem Human Brain for Neurodegenerative Markers

Dr. Steve Sheardown is the Head of Molecular Biology and Cell Engineering at Cerevance. Cerevance is focused on answering fundamental questions about the complexity of the central nervous system and its diseases. Dr. Sheardown and colleagues are especially interested in identifying changes in gene expression associated with neurodegenerative disorders where effective disease management or therapeutics are not available. Learn more about Dr. Sheardown's research and how Trio RNA-Seq enabled his team to investigate the impact of disease states on individual neuronal cell types using a high-throughput approach.
Click here to read more.
---
Hycult Biotech - Elastase and elafin as prognostic biomarkers for ARDS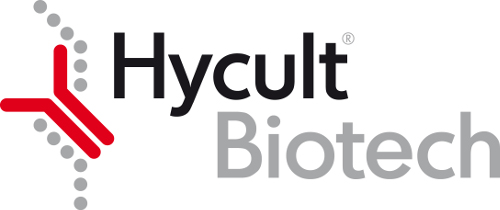 Acute respiratory distress syndrome (ARDS) is a complicated clinical syndrome with a high mortality rate that is characterized by non-cardiogenic pulmonary edema and acute respiratory failure. In the lung an imbalance between the proteinases and their inhibitors damages the alveolar-capillary barrier, resulting in the leaking of protein-rich fluid into the interstitium and alveolar spaces, which is the key pathophysiological characteristic of ARDS.
Click here to read more. (Link to Hycult Biotech website)
---
Cygnus Technologies - Host Cell Protein Detection: Generic Versus Process Specific Methods

Theoretical concerns about assay reactivity to all individual HCPs are valid, however specific guidance on how to demonstrate adequate reactivity has been lacking. A few "review" articles have been written and various industry stakeholders have convened in ad hoc groups to propose some guidance to the industry. Based on our considerable experience in the field of HCP analysis we feel these efforts have fallen short of offering specific and scientifically effective ways to address these theoretical concerns. The purpose of this paper is to suggest a better defined and scientifically relevant approach to qualification of all antibodies and assays, generic or process specific.
Click here to read more.
---
NEW VIDEO
EpiCypher – An introduction to SNAP-ChIP
SNAP-ChIP (Sample Normalization and Antibody Profiling for Chromatin Immunoprecipitation) is a groundbreaking new technology that allows you to normalize your ChIP and ChIP-seq experiments as well as profile the specificity of your ChIP antibodies. SNAP-ChIP uses DNA barcoded recombinant designer nucleosomes (dNucs) as next-generation spike-ins for Chromatin Immunoprecipitation (ChIP). EpiCypher's K-MetStat panel can easily be added to any ChIP workflow without altering the protocol. However, users can monitor antibody specificity and evaluate technical variability within a ChIP or ChIP-seq experiment for the first time, setting SNAP-ChIP apart from any other spike-in controls (i.e. Drosophila) currently available.
Click here to watch. (Link to YouTube)
---
PROMOTIONS
Mirus Bio – Extra 15% OFF Introductory Pricing for LabelIT

®
MFP488 Nucleic Acid Labeling Reagent
Special Introductory Pricing ends June 30th, 2018. For the months of May and June, we are offering an additional 15% OFF this introductory pricing to make it even easier for you to try this new product in your lab!
High Photostability – Facilitates longer time for observation and image capture
Widespread Instrument Compatibility – Spectrally similar to fluorescein
Stable at Low pH – Fluorescence is maintained over a broad range (pH 4-9)
Click here for more information on LabelIT® Products
Click here to order or request a quote.
Offer valid until June 30th, 2018.
Cannot be combined with other offers or discounts.
Promotion code MIR488.
---
Vector Laboratories - Buy a Vector® TrueVIEW™ Autofluorescence Quenching Kit and Get 50% OFF a VECTASHIELD® Antifade Mounting Medium
Vector® TrueVIEW™ Quencher uses a unique, patent-pending quenching agent to specifically bind and quench autofluorescent elements from non-lipofuscin sources, even in the most problematic tissues.
VECTASHIELD® Antifade Mounting Media formulations offer unsurpassed protection against fading and photobleaching, thereby, providing excellent signal retention for image acquisition and specimen archiving.
Click here for more information on Vector® TrueVIEW™
Click here for more information on VECTASHIELD®
Click here to order or request a quote.
Offer valid until June 30th, 2018.
Cannot be combined with other offers or discounts.
Promotion Code VHS18.
---
Micronic – Buy One, Get One Specials on Cappers, Tubes and Scanners

These offers will help improve your workflow by automating the process of (de)capping and scanning your sample storage tubes.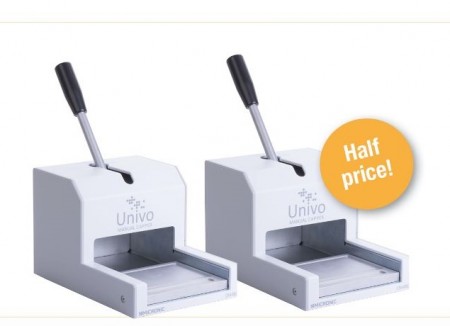 Buy One Manual Capper CM480, Get One at 50% OFF
The CM480 Capper offers a cost effective way of applying uniform pressure to push caps in an entire 96 tubes rack in only a single action.
Click here to order.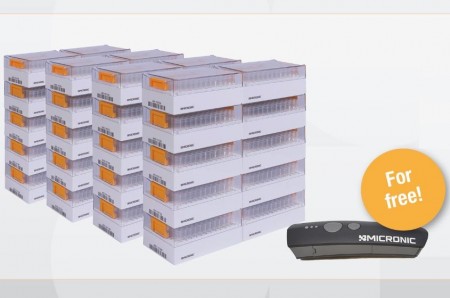 Buy One Case of External Thread Tubes, Get One Wireless Scanner for FREE
The small lightweight scanner is practical to carry around, easy-to-use and can read any 1D barcode or 2D Data-Matrix code on 24-, 48- and 96-well format tubes and racks.
Click here to order.
Offers Valid until June 30th, 2018.
Cannot be combined with other offers or discounts.
Promotion Code MIC311.
Offers valid while quantities last.
---
EVENTS
NuGEN Webinar - Mining the Post-Mortem Human Brain for Neurodegenerative Markers: Deep Sequencing of Cell Type-Specific Transcriptomes
Thursday, May 10, 2018 11:00 am to 12:00pm Eastern Daylight Time
This webinar will highlight the use of high-throughput sequencing of post-mortem human brain tissue to identify neurodegenerative markers and identify potential drug targets.
Dr. Steve Sheardown, Head of Molecular Biology and Cell Engineering at pharmaceutical company Cerevance, will discuss a technology platform called NETSseq (Nuclear Enriched Transcript Sort sequencing). Cerevance uses NETSseq to interrogate the molecular diversity of individual neuronal cell types in human tissue to understand their genetic complexity, the contribution that each of these make to circuit function, and, in the context of brain disorders, their potential for therapeutic intervention.
Cerevance is building an extensive collection of transcriptomes from cell types selected for relevance to human disease covering both sexes and spanning different ages from donor samples obtained from diseased populations. Since commencing clinical data collection in October 2017, Cerevance have already accumulated over 1,300 high quality individual transcriptomes. Using this unique resource, the company aims to identify and pursue novel drug targets to address areas of high unmet medical need within the field of central nervous system disorders.
Dr. Sheardown will discuss how his team has transformed NETSseq from a low-throughput proof of concept to a robust high-throughput process for generating deep sequencing libraries from limited quantities of fixed post-mortem tissue. To achieve this, Cerevance has rigorously tested a range of products at every stage of the process, focusing on yield, quality, reproducibility, and automatability.
Drawing on examples from the company's transcriptome dataset, Dr. Sheardown will illustrate the depth of information that his team can generate using its NETSseq platform.
Click here
to register.
---
Visit us at the following tradeshow events:
38th Annual Frontiers in Physiology (FIP) Research Symposium
May 4, 2018
MaRS Auditorium
University of Toronto
Toronto, ON
McGill University Healthy Brains for Healthy Lives (HBHL Research Day)
May 9 - 10, 2018
McGill University
New Residence Hall
James Building, Room 201
Montreal, QC
World Yeast Congress
Join us and Sunrise Science Products
May 14 - 15, 2018
Holiday Inn EXPRESS &Suites Montreal Airport
Lachine, QC
---
MJS
BioLynx WELL BEING

Western Law Students Being Taught How to Relax
"Western University is now offering a one-of-a-kind course on mindfulness meditation to first year students. "If you can focus just on the present, your thoughts are not focused on the future, our to-do list or regrets about the past," said Thomas Telfer, a law professor at Western and the man behind a new mindfulness meditation course."
Click here to read more. (Link to CBC website)
Click here to visit the MJSBioLynx Well Being website.